The following post was submitted by Patrik Wiksten
I was in contact with Robert Godes today regarding a meeting he attended in Finland with an interesting group of people. Among those attending was Pekka Haavisto, minister of international development in Finland. I sent him an email and got a swift reply with some interesting names.
Hopefully I will be able to get some more information from those who arranged the meeting and perhaps also an interview.
One interesting thing about this is the debate in Finland regarding a new nuclear power plant. Perhaps they are looking at LENR as a potential alternative?
Robert Godes also has had a meeting with Statoil in Norway which is the state controlled oil company in Norway. Interesting Tweet-replies from Godes:
@Pawik it turns out oil companies have seen thermal excursions in their hydrogenation beds. It is a problem for them but LENR is the cause.

— Robert E. Godes (@regsoft) November 3, 2014
@Pawik all but the most pathological disbelievers change their tune after talking with me. Had a great meeting at Statoil in Norway as well. — Robert E. Godes (@regsoft) November 3, 2014
He refused to talk about where Brillouin were in the process when I had my talk with him via Skype. It is VERY interesting that the Finnish government AND Statoil chooses to talk with Brillouin though…
Patrik Wiksten
UPDATE: I received this note from a Finnish reader:
I am Finnish and I can tell that Pekka Haavisto isn't any more minister of international development. Pekka Haavisto is member of The Greens of Finland. The Greens of Finland resigned from government in two month ago. Reason was permission to build new nuclear plant to Finland.
More information:
http://yle.fi/uutiset/green_party_votes_unanimously_to_leave_government/7482977
http://valtioneuvosto.fi/hallitus/jasenet/en.jsp
UPDATE 2: This photo was provided by a reader here. I think this is the meeting with the Finns, but can't be sure. Robert Godes' face is obscured by the gentleman with the white hair; sitting to Godes' left is Robert George, also of Brillouin.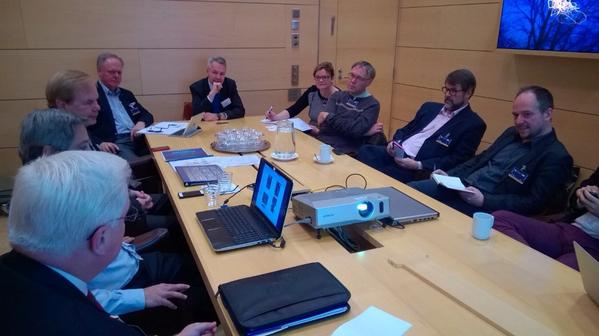 Thanks to a Finnish reader who points out that it looks like Pekka Haavisto is sitting at the head of the table: